Chemical Damp Proofing....
Most houses without a Damp Course Membrane (D.P.C.) incorporated in their construction will suffer from rising/penetrating damp of one sort or another, also with more modern developments, rising damp can also be problem, due to raised flower beds or construction of new patios and timber decking.
If this goes on unnoticed, further saturation would occur, which would result in structural damage to walls, plaster/render and to wet rot in timber floor's and roof construction, which could escalate into repair bills well into the tens of thousands.
What I have seen in so many properties with rising/penetrating damp, ia a large degree of the damp penetration has been due to the external ground level is level with the internal ground floor height.
A large degree of the damp penetration is sometimes due to the internal plaster backing render (sand & cement) it is in contact with the sub floor (rubble, stone and soil). The quality of the cement-based render is very porous, therefore absorbing higher amounts of water than normal, for this age of property.
The other important factor is there can be very limited under floor ventilation, with no clear external vents, due to vegetation growth of blockage or insufficient size.
Unfortunately with a lot of properties, when works are carried out to improve their home, ie. raised flower beds, new paths or patio's laid, people tend to forget above maintaining a minimum of 150 mm (6 inches) for the external ground floor level (G.F.L). to the Damp Penetration Course (D.P.C.) or internal finish floor level (F.F.L.).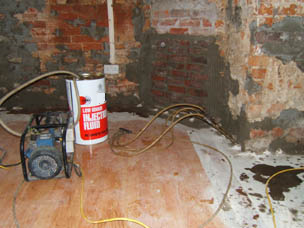 Above; Chemical Damp Injection.
On completion you will receive a Biokil Crown 30 Year guarantee.
Below Ground Floor Tanking
Where the external ground floor level is higher than the internal wall and floor, water can penetrate through the walls into the structure of the building causing untold damage to plaster/render and creating high levels of moisture, leading to wet rot and fungal decay.
What to do?
As a Biokil Crown Approved Constructor we carry out site visit to record and establish to the exact cause and assess the damage to the internal fabric of the property.
Then a approved specification is written by us which will then form the part of the guarantee.
For below ground tanking, Biokil Crown offer a 10 Year guarantee.

For a free quotation Telephone (01305) 777 200
Email:survey@build-craft.com
Images & photographs are for illustration only.
Health & Safety information is available on request.

Copyright © Buildcraft Construction Ltd. 2010-2018. All rights reserved.